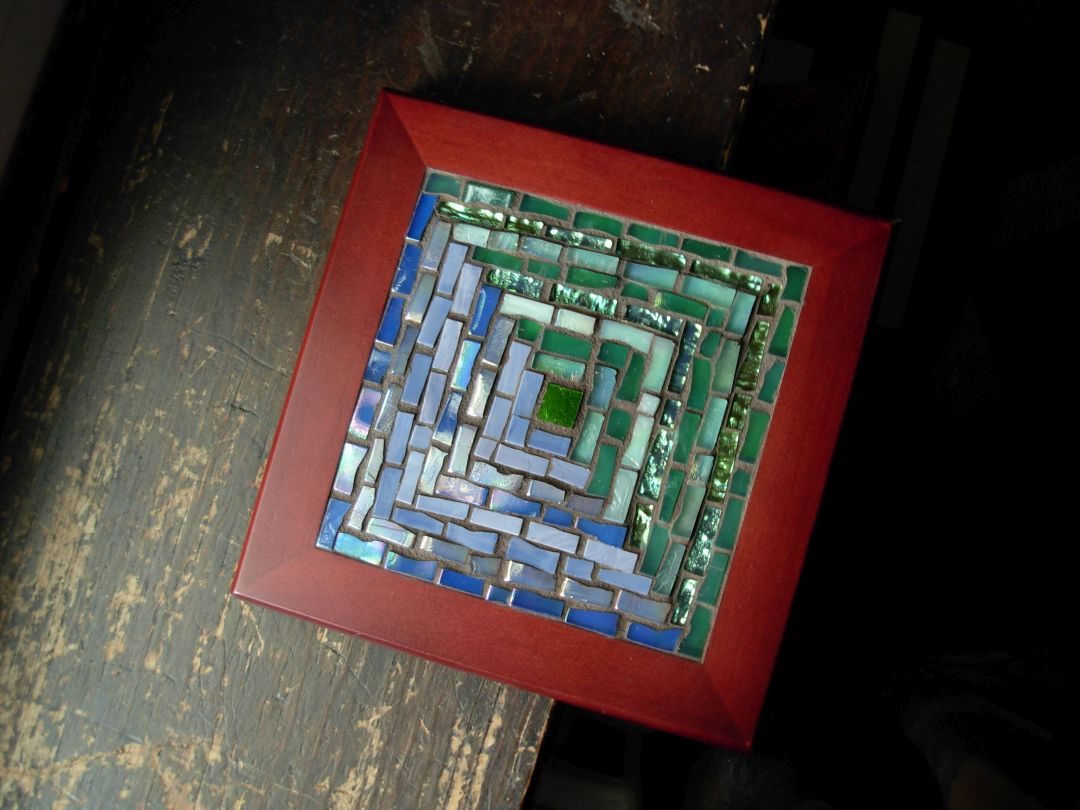 Deciding to make quilt patterns in glass was one of the most exciting choices I've made as a mosaic artist.  The Log Cabin block in particular brings out my creativity and allows me to play with color.  The challenge of making scrap quilts gives me a good springboard for my own mosaics made of scraps of glass.  Stratoz creates a lot of glass bits in his studio, and I love putting them to good use.
Quilters also quite adept at blogging and I'd like to share some of my favorite quilt bloggers.  They are a storehouse of creative energy.
Barbara Brackman's Material Culture: Information from a Quilt Historian About Quilt Fabric Past and Present
There is so much history encoded in different fabrics, and Barbara Brackman provides fascinating detail, and always has photos.  I especially enjoyed the Perkiomen Valley Patch, as I live very near the Perkiomen Valley in PA.
Lisa Call:  Contemporary Textile Art
Lisa Call says she creates vivid geometric abstract contemporary quilts.  I feel a kinship to her experimentation with color and her passion for her art.  She has an interesting post about working in a series, and the permutations the theme takes.
John Hopper writes about every imaginable textile from quilts to embroidery to macrame!  I've learned a lot from his meticulous research and writing.  He highlighted a contemporary quilt artist Paula Nadelstern and her cool kaleidescope quilts.
Sew On and On:  My Joyful Journey Through Arts and Life
Valerie Kamikubo populates her blog with visual treats, and her observations about art and creativity.  The colors in her post of dyeing fabric are very vibrant.
For true quilt heaven, check out Planet Textile Threads, a collection of quilt bloggers aggregated into one place.
Further Reading
Beautiful Thrift: Coin Quilt Patterns in Mosaic
Making a Variable Star Mosaic: Ohio Star
Over at Stratoz:
7 for the Weekend–Celebrating a 2009 Quilt Show
Stained Glass:  Bartering a Bear Paw Quilt Design