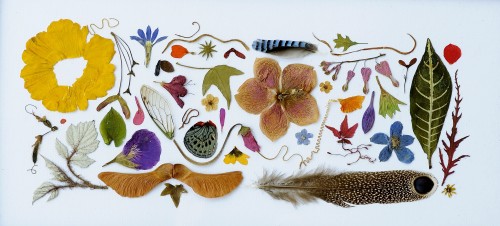 Lambertville artist Sally Stang creates pressed flower collages, which she calls "Fleurage."  She also calls them "floral mosaics" because that is what they truly are – an arrangement of floral bits and pieces with the addition of some butterflies, feathers and the occasional cicada wing. Sally has been making pressed flower pictures for about 35 years.  She was inspired by a cover of "Horticulture" magazine which featured the work of Harry White who did portraits and other unusual designs using pressed flowers. She had always loved floral arranging, so the idea of arranging "flat flowers" was attractive.  Her first pressed flower entry in the Philadelphia Flower Show won a 2nd prize, which propelled her to do more work.

The biggest hurdle with pressed flower art is that the flowers fade. If she piled flowers on top of each other, as Harry White did, they would eventually fade into mass of beige and dull greens, losing most of that beautiful color. So, Sally has spent much time experimenting with how to preserve color. None of the books on flower pressing had good ideas, but one British woman (the Brits love pressed flowers) said that she used a Q-tip and applied tempera paint powder (the kind we had in elementary school) and that gave Sally the idea of using pastels, which are pure pigment. Each petal and leaf is rubbed with pastel "dust" – she uses the softest pastels, so there are no hard bits to tear the petals.  The colors hold fast for decades. After she applies the pastel, each bit and piece of flower is then glued on acid-free matboard, then framed up under glass.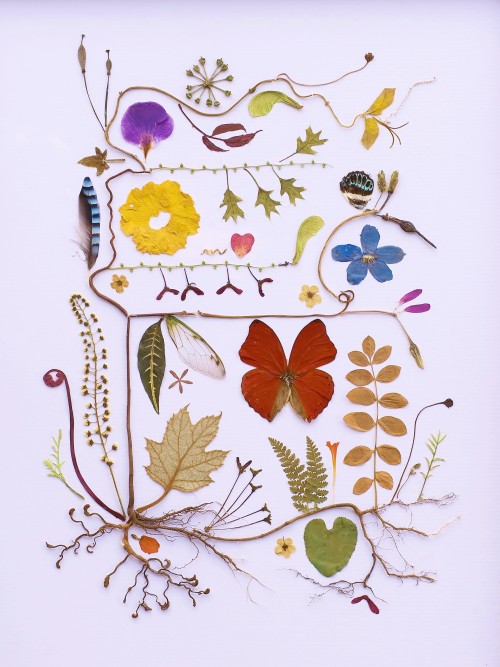 Sally Stang has an eye for making the spaces in between the materials as beautiful as the flowers themselves, and I love her undulating shapes. Transformations 40th Annual Art and Craft Show, November 8-10, 2013, Hopewell Train Station, Hopewell, NJ.
Transformations Featured Artists:
Connie Bracci-McIndoe(pottery)
Susan Nadelson(hand dyed and handspun yarn)
Bernard Hohlfeld(artistic woodturner)
Amy Turner(weaving)
Ron Dombrowski(wood carving)