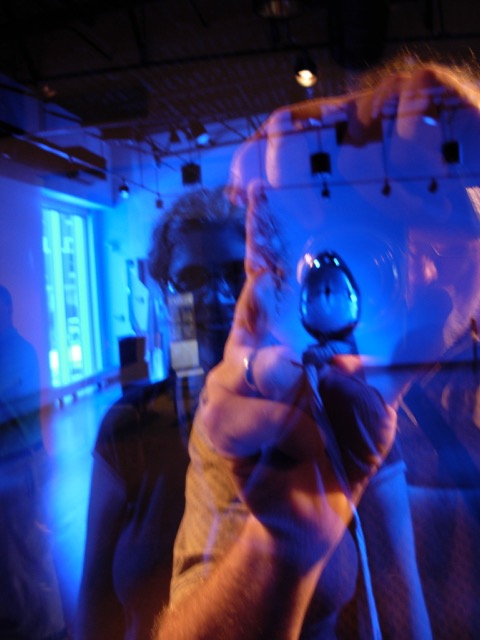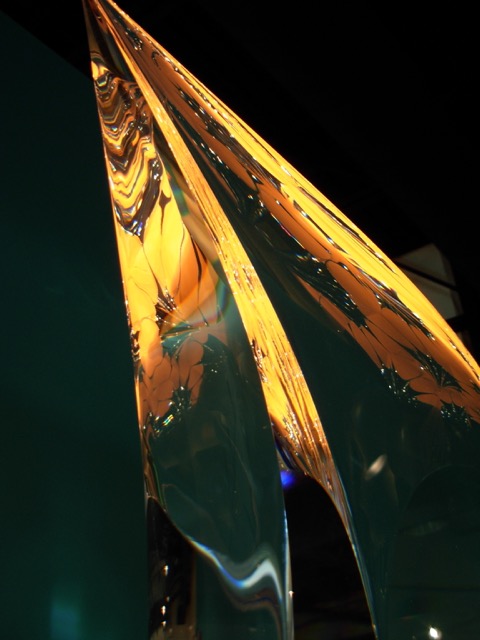 Stratoz and I went to Guiding Light,  the Ries exhibit at Misericordia University, and were awed by the collection of work. Stratoz took many photos, in hopes of capturing something of the essence of these sculptures.  This is a three dimensional experience. Each piece offered up a multiplicity of reflections and angles as I circled around each one, and created a meditative state of discovery and delight.  As the gallery director, Brian J. Benedetti writes in the program, "Christopher Ries is fundamentally a sculptor of light." Embrace is imbued with vibrant orange, but thrown magically from the base of the piece, to inhabit the clear crystal tip.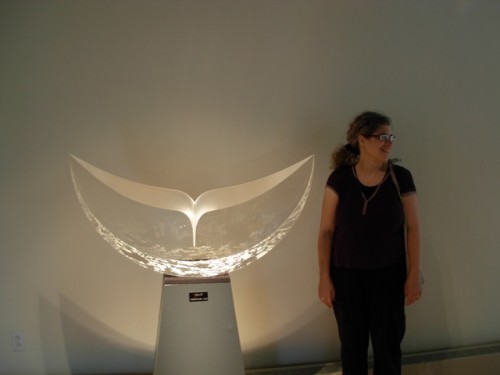 Here I am next to Peace, a glowing whale's tail on the waves, or as it now occurs to me, a white dove, in glass tourist glory.   Tourists have their photos taken by monuments, often memorializing the war dead, so it is a relief to find a monument to peace instead. I will close with an excerpt from a poem called Sea of Glass, which  I wrote about the first time I saw Ries' work, in 1996.
"Ries presses his chest into the machine
he has made, polishing the opaque glass,
not knowing the inside
until it is finished.
The glass sculpted like praying, leaning on the heart
to change its inner shape."
–Margaret Almon
Related Posts:
My First Poetry Reading in a Long Time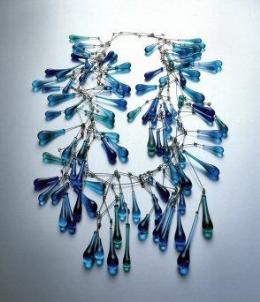 Stratoz and I were invigorated by 4 days of jazz at the Rochester Jazz Festival, a fortuitous visit to the Memorial Art Museum exhibit "GlassWear", and our annual stop at the Corning Museum of Glass.
We stopped by the Memorial Art Museum and were greeted by glass!  A travelling exhibit from the Museum of Arts & Design with pieces such as Wendy Ramshaw's Chain of Tears for a Weeping Woman.
The Corning Museum of glass had an exhibit of pieces from the Heineman Collection, Voices of Contemporary Glass.  The Heineman's gave their fabulous collection of art glass to the Corning Museum, and shared it with the world.  Stratoz took a wonderful picture of Spirale by Lino Tagliapietra, and it's a great example of a volute!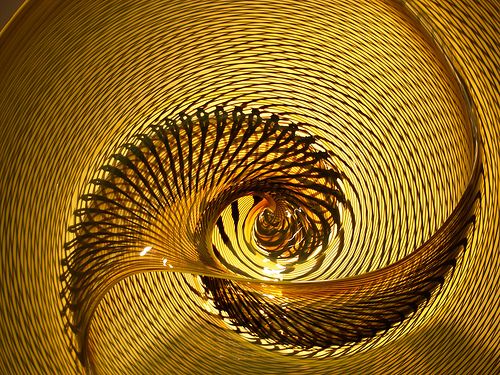 Getting home to my mosaic studio, I had many inspirations and ideas.  I felt a bit of glass withdrawal, but discovered that Christopher Ries was exhibiting at Misericordia University's Friedmen Gallery, August 22nd to October 25th, 2009.  Dallas, PA is close enough for a day trip from Lansdale!  The exhibit is called Guiding Light, and features some of his large glass sculptures.  Ries is important in my evolving into a glass artist.  I first saw an exhibit of his work at the Glass & Light show at Everhart Museum in Scranton, in 1996.  The room was darkened, and the sculptures lit from below and I was mesmerized as I walked around each one, and witnessed the reflections, the changes, the transformations that the glass went through.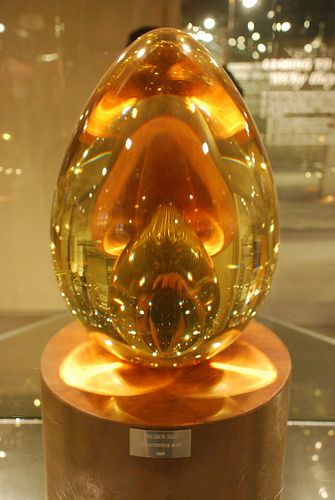 I was so moved by the glass, that I wrote a poem about it, called "Sea of Glass," as I was a poet at that time, not a mosaic artist, but the glory of the glass spoke to me in a way beyond words.
Related Posts:
Embrace:  The Glass Sculpture of Christopher Ries