G is for Grey Towers, the home of Gifford and Cornelia Pinchot(1881-1960)and built by Gifford's parents James and Mary Pinchot in Milford, PA.  Grey Towers is now a National Historic Site. Gifford Pinchot had a passion for forestry and is a father of sustainable forest programs in the US, and also served two terms as governor of Pennsylvania.  Note the majestic mustache.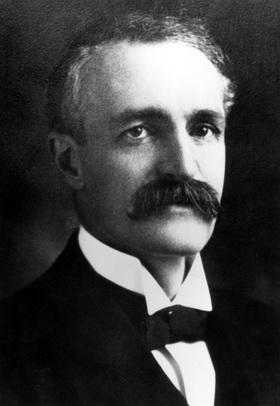 Cornelia Pinchot campaigned for women's right to vote, child labor laws and after her husband died, ran for the governorship, as well as for Congress.
Stratoz and I had driven by the signs for Grey Towers many times but it was closed for renovations;  finally we stopped in 2002 when it had reopened and took a tour. It rises up like a miniature castle, made of PA bluestone.  Beyond it's formal appearance, we discovered the Cornelia's sense of playfulness, with the outdoor dining room table called the Finger Bowl.  Guests passed the dishes afloat.
The Letter Box was an office for Gifford Pinchot and archive of his papers, which are now at the Library of Congress.  At the end of a reflecting pool was the Bait Box, a playhouse for the Pinchot's son.  There was some larger than life Maple Leaf wallpaper inside the mansion, and I discovered that Gifford's father made his fortune in wallpaper.